Book: Carnal Persuasion
Series: Severed MC #4
Author: KT Fisher & Ava Manello
Genre: MC
Cover Design: Margreet Asselbergs
Cover Model: Asher Collins
Cover Photographer: Richard Hunter of RIHUPHOTO

The fourth instalment in the Severed MC series finds Cowboy wrestling with his demons. Can he go on, or is he too broken after everything he's endured?

Meanwhile the citizens of Severed are caught up in a war, and it's down to Severed MC to try and save them.

This book is going to blow your mind.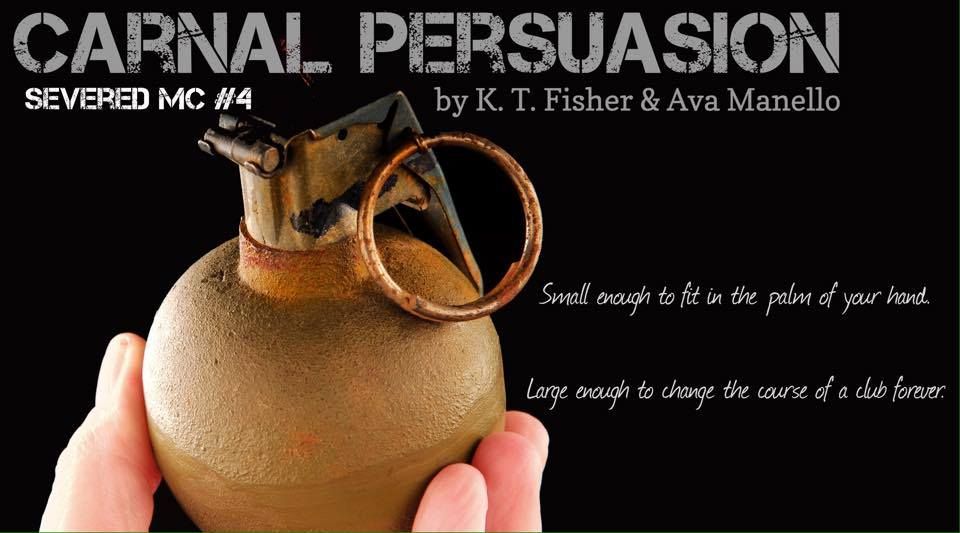 Rating: ☆☆☆☆☆
If you thought that the guys and gals of Severed MC had been through the wringer and couldn't go through anything more, you would be mistaken, as a new danger hits the town. This book is explosive and shocking but you will want to join them for this ride.
The vulnerability of these tough guys comes through quite starkly as we see some of them at their lowest and still coming to terms with the events from 'Severed Justice'. Trusting does not come easily to these guys. Cowboy is particularly struggling with things and feeling lonely but as he discovers there is someone he cares about and who cares about him, we start to see the Cowboy of old re-emerge.
This is a family in the truest sense of the word. What affects one them, affects them all and family sticks together no matter what. These guys and gals are
colourful
characters that jump off the page at you and what will strike you about these characters is
that, despite the tough person
as
, they have the biggest hearts
and stand up for what they believe and for those that they love. Another amazingly well written journey into the world of Severed MC. I absolutely love this series, the characters and the stories created by the awesome K.T. Fisher and Ava
Manello
.
KT Fisher

I love reading, it's my favourite hobby. I've always had ideas for my own books packed into my head so I thought I would write them out for people to enjoy.

Stalk KT Fisher:
Ava Manello

Passionate reader, blogger, publisher, and author. I love nothing more than helping other Indie authors publish their books be that reviewing, beta reading, formatting or proofreading,

I love erotic suspense that's well written and engages the reader, and I love promoting the heck out of it over on my book blog.

I'm a mother, but most of all I'm me!



Stalk Ava Manello: