Book: Finally Unbroken
Series: Finally Unbroken #1
Author: Maria Macdonald
Genre: Contemporary
Cover Design: Francessca's Romance Reviews
Synopsis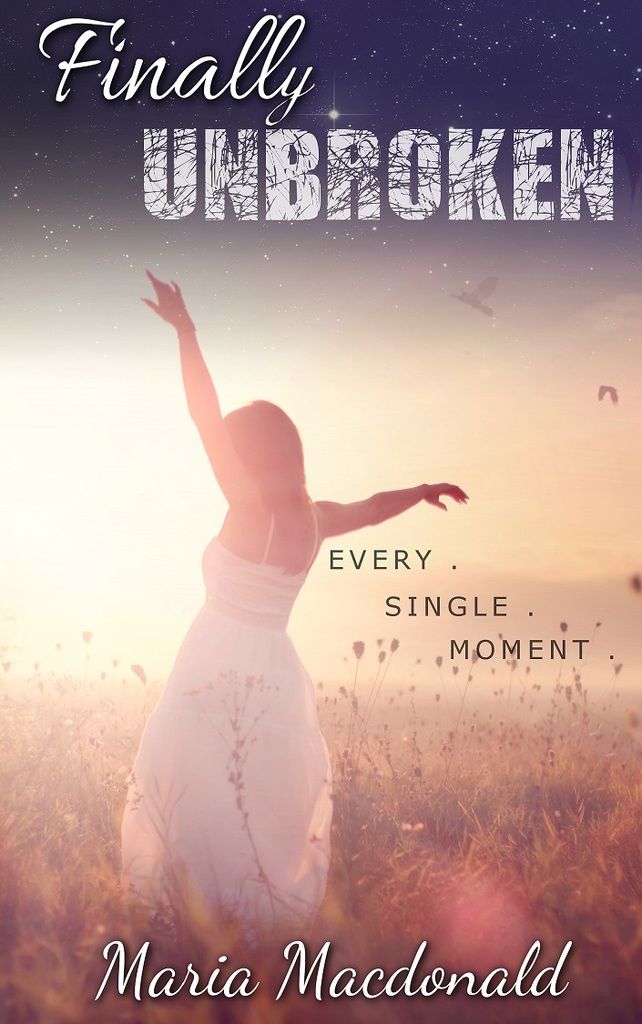 "A soulmate is someone who has locks that fit our keys, and keys to fit our locks."
-Richard Bach

I'd known my soulmate, my best friend, my sister, forever. No span of distance nor time would ever change that. Even as I trudged through my colorless life. Loneliness and isolation snapping at my heels. I always had her as my North Star.

Now I know I'm going to lose her—my soulmate—and I have to learn to lean on the only man I've ever loved. The one who pushed me away… just to survive.
The life I once dreamed about has been washed away in a sea of regret. People from my past are appearing in my present, hoping to remain in my future. Each day I draw strength from my history.

I have to learn to live again, to have hope again and to love again.
She wants me to trust him. He wants another chance. I just want the strength to move on with my new life.

All I have to do now is take my hands off the safety bars... and have a little faith.

Add To Goodreads



Purchase Links







Review


Keith and Anabel live in a ramshakel hut that used to be Keith's parents. Anabel has wanted to leave him for the longest time. Anabel and Danny have known each other for a long time. When he left the town for college, her whole life changed she wasn't the same person as she was before. When Danny came back seeing him again, brought a whole bunch of feelings back. Anabel's friend Amanda comes home from Paris, they both have a whole bunch of fun together.
Anabel is married to Keith, she is the quiet nerdy girl, her dad died 12 years ago and her mom died 10 months after. She decieded that its time to get a job. Keith is Anabel's husband, he is very rude to her, he used to be a quaterback, he works at a bar two days and nights a week. Danny is Keith's friend left town and became an athlete. He own's a lot of resturants, can't get over Anabel. Amanda is Anabels friend more like sisters, she got her English and French degree from Dartmouth, moved to Paris. Layla is Danny's assistant, she is very good at what she does. Ruben is Danny's friend, has always had feelings for Amanda.
This is my first book by Maria MacDonald and it wont be my last. This book is very well written and the characters are very well developed. I loved that I was hooked from the first page of this book .I loved that I felt very connected to the characters. I found it very hard to put this book down.

What Others are saying:

Such a beautiful heartbreaking Story!
I most definitely needed emotional therapy when i finished, but i would re-read it all over again...sigh ~ Books and Coffee Cups

One word…tissues; you will need lots and lots of tissues to make it through this book. ~ Books 2 Blog

Finally Unbroken, while being a romance book is actually so much more. Maria manages to pull you into a story that also focuses on friendship, so much so that the romance actually takes a back seat and that's okay, because it works so perfectly in this book, that I didn't miss it. ~ Sophie Bookalicious Babes Blog



About The Author




Maria is a full time working Mum, she has two beautiful daughters, both of whom love books as much as she does.

Maria has loved to write since she was a little girl.

Reading and loving books, as well as blogging, has inspired her to write and publish.

Maria, her husband and children now reside in Wiltshire, England.

You can stalk Maria Here:

Facebook
Pintrest
Instagram
Goodreads
Twitter
Website
YouTube Channel