Book: Sweet Exposure
Author: Beth Ashworth
Genre: Contemporary Romance
Synopsis: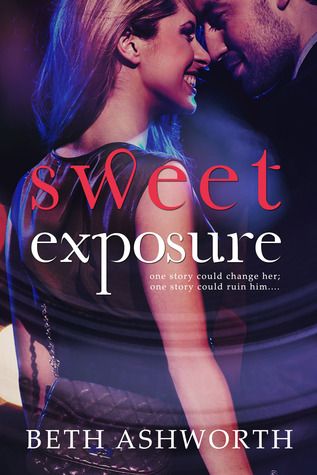 Lola Hart knew moving to London would be easier said than done … but it was the big dream and enough for her to leave everything else behind. She followed her heart.

Now, twelve months later, she is dangerously living on the verge of bankruptcy, eviction and humiliation. The perfect career in journalism proved to be nothing but a farce, forcing her into freelance reporting. Broke and desperate, Lola's life quickly spirals out of control. That is, until she happens upon the greatest of opportunities.

Blake Tanner craves a quiet life … a change from his younger years spent recklessly enjoying the illustrious and opulent lifestyle of London's elite. He has matured somewhat, but is still finding it difficult to shake the image he created.

As one of London's most eligible bachelors and the future of his family's multi-million pound company, he is a hot topic and the entertainment industry's most wanted.

Lola is tasked with revealing the secrets of the elusive Blake Tanner, and she cannot contain her excitement, knowing this sweet exposure could be her big break. She is determined, gutsy, and has nothing to lose ... or so she thinks.

One story could change her.

One story could ruin him.



Rating: ☆☆☆☆☆
Lola is very determined to get pictures of Rebecca so she can pay her rent and some of her bills. She hasn't been paid in months, when her boss Carl calls her and tells her that he wants her to follow someone day and night. She is very determined to get these pictures and information on Blake Tanner, so she can get paid. She gets caught at Champion Group by the security and they don't know how she got into the building because i
t was locked down. The second time that she was caught was by Blake while he was running in the town where he lives. Blake and Lola were caught in the ally way by paparazzi. What happens next? Well you will have to read the book to find out.

Lola works exclusively with RAW Magazine, she had dreams of being a journalist, she lives in London, she doesn't have a good relationship with her parents. She has an addiction to Love Hearts. 24 years old. Blake is on his way to becoming the CEO of Champion Group, he is on the top of every magazine wanted list for a scandal. He used to be a major playboy. He is the Operations Director of Champion Group. he is 32 years old. Lee is Lola's guard. Brian is Blake's grandfather. CEO of Champion Group. Wants to see Blake as the CEO. Lucy is Blake's PR Manager. Anton is Blake's driver. Josh is Lola's house mate, gay. Harvey is Lola's house mate, gay. Joel is Blake's cousin. Louisa is Joel's mother, thinks that her son is entitled to be the CEO of Champion Group. Tiffany is Joel's girlfriend.

This is my first book by Beth Ashworth and I can honestly say that it will not be my last. This book is very well written and the characters were very well developed. I loved how well the characters were developed and how I felt connected to the character. I found it very hard to put this book down.
Purchase Links
What Others are saying


Beth Ashworth always aims for something a little different, uniquely her. Sweet Exposure doesn't deviate from that. It's one of those reads that makes you appreciate her talent. I hope she never stops sharing her stories. ~ Goodreads Review

The author does a fantastic job with the story and I loved the characters! I will be looking for more books by Beth Ashworth to read! I highly recommend you pick this novel up!! ~ Goodreads Review

Beth has kept it British once more - to my absolute delight - and this book was a pleasure to devour and forge my way through as I was desperate to get the end to know how Lola and Blake's story ended and if they ever got their happily ever after! ~ Four Brits and a book

Sweet and hot, just what I like! Add some humor and a unique story, and BAM...you have an awesome new book by Beth Ashworth. I loved Lola's tenacity, and Blake… well he was just as yummy as the conversation hearts Lola was addicted to. This book is unique and fun, so BUY IT! READ IT! Beth just gets better and better!!! ~ Amazon Review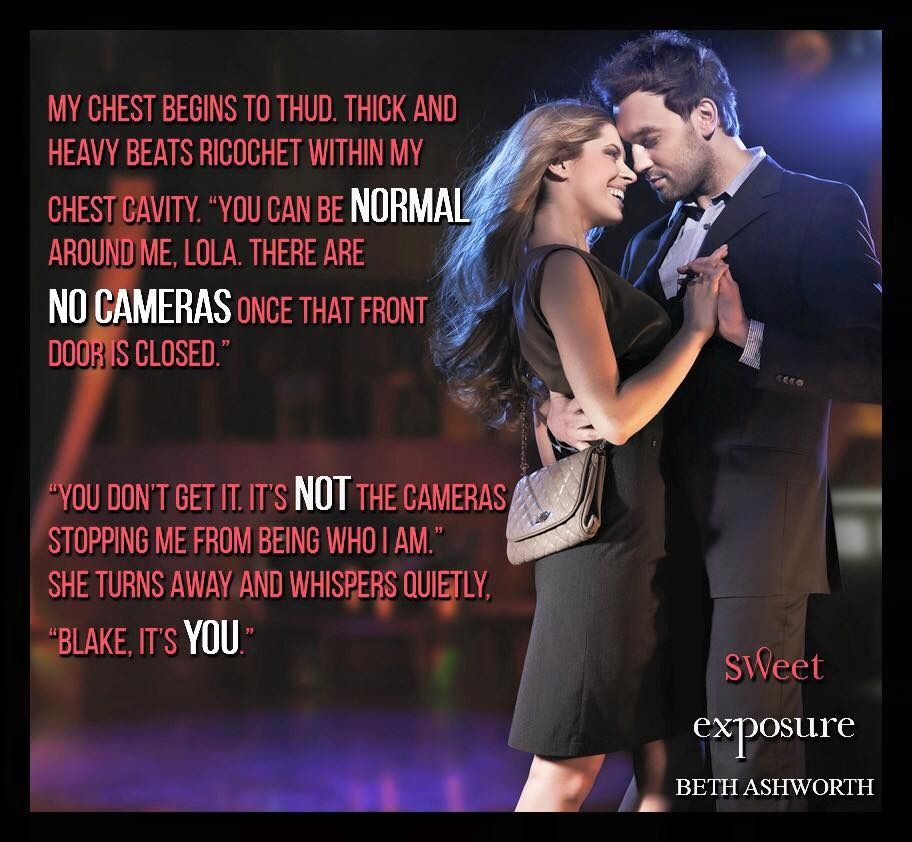 About The Author

Beth Ashworth was born in Manchester, but shortly moved to the modest city of Coventry where she was raised and still resides now.

As an avid reader from a very early age, Beth has always been keen to put her words onto paper. As a child she was always found with either a book in her hand, a pen and notepad or a computer games controller.

Starting off by initially writing alternate endings to her favourite Jacqueline Wilson books from around the age of ten, Beth has continued to grow and love her passion for books.

Eventually, after many unfinished books and short stories, she finally decided to follow her passion and write books that she hopes people will love.

When she isn't reading or writing, Beth loves to spend time with her husband and friends.

You Can Stalk Beth Here:

Instagram
Goodreads
Facebook
Twitter